Final Destination 5

on 12 August 2011 (USA)
Length: 1 hour 32 minutes

Survivors of a suspension-bridge collapse learn there's no way you can cheat Death.

Directed by Steven Quale
Writing Credits (WGA)
Eric Heisserer ... (written by)
Jeffrey Reddick ... (characters)

Cast (in credits order) verified as complete
Nicholas D'Agosto ... Sam
Emma Bell ... Molly
Miles Fisher ... Peter Friedkin
Ellen Wroe ... Candice Hooper
Jacqueline MacInnes Wood ... Olivia Castle
P.J. Byrne ... Isaac
Arlen Escarpeta ... Nathan
David Koechner ... Dennis
Courtney B. Vance ... Agent Block
Tony Todd ... Bludworth
Reading Challenges:
Book Blog Discussion
Can you post every day except Sundays during this month?  And to up the bar, can you blog thematically from A to Z?

       Most of the time if you subtract Sundays from April, you then have 26 days–one day for each letter of the alphabet.  When April 1st lands on a Sunday you begin on that day which will be the only Sunday you would post during that month's challenge.

More info can be found at Blogging from A to Z and the full list of bloggers is here!
"A" post   —  April 1, 2018 (No fooling! 😁 )
 After Challenge Survey  —  May 3, 2018
Reflections  —  May 7, 2018
My A to Z Challenge: F for Final Destination

While this isn't the scariest franchise, I'm adding because boy, don't we all know we cannot cheat death!? Even though these guys try, and fail, every time!
I haven't gone back and watched all of the movies, but watching the newest one, which came out in August 2011 (I'm behind a tad), it was easy to remember how the movies go.
Basically, someone has a premonition of their death. It's always horrific and involves a lot of people. They snap out of the premonition and realize it hasn't happened yet. But, things are happening that sort of prove that maybe this is really going to happen.
It would freak me out. That's for sure.
What I find the most freakish of all, is that Death is coming for these people. The old adage says, you can't cheat death, and they can't! Of course, that's not going to stop people from trying.
And Death is really working it in this one. There are some odd things that happen, occurrences that could never happen on their own, that create these deaths. Which is one of the reasons I'm adding it here. I'm walking around my house and a breeze flows through the windows and I'm instantly on guard. Drop a bottle cap and it bounces into the shower, yup, I'm looking around making sure nothing is going to fall on my head and crush my skull in. I'm sure you get the picture!
So, while this particular one is a bit campy, reminiscent of the fabulous 80's horror films a bit, it loses the scare factor at the beginning of the movie. Fortunately, once that silliness is gone, it's all business for Death. But, sadly it's also friend against friend at this point, so while I was interested, I was also a bit sad. Who turns on their life long friend to live longer? People in these movies.
It did have a fantastic ending though! And, of course got me thinking about the anthropomorphization of Death. These movies are scary (ok, sort of) because Death is stopping at nothing to ensure he gets the souls of those that are supposed to have died. But, all of these films have people who have premonitions of their deaths. Why do they get them and who is giving them? It makes me think that maybe Death is bored and is creating a game for himself. Instead of everyone dying in this plane crash (or whatever), he gets to chase them down and scare the bejeezus out of them, like a true hunter.
If we take Death in Terry Pratchett's series, even he was annoyed when Rincewind's timer didn't run down, and Rincewind would get away. But, this version of Death, while annoyed, would shrug his shoulders, because he, like Pepe Le Pu, understands that time runs out on everyone. He doesn't have to chase Rincewind, sooner or later they will have an appointment that Rincewind will not be able to outrun.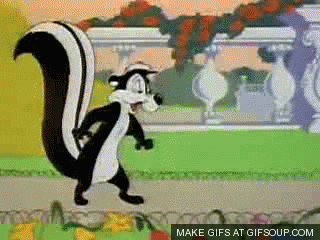 Although I haven't read all the Stephen King books in quite some time, hubster reminded me of Randall Flagg. While the books suggest he's more of a wizard, or a dark demonish type of person, he seems to be on this quest like Death in Final Destination, to obtain souls. To what purpose, I'm not sure, but that's what bad guys do right? Do that make Death in Final Destination a bad guy? The people that survive were going to die, so they actually get more time, but most of the time they then die a more horrific death (although death is death).
Reading this book contributed to these challenges:
Related Posts